Scanmeg
developer of industrial
solutions
ScanMeg offers a range of presence detectors and measurement systems that accelerate and optimize factory production. Known worldwide, ScanMeg's sensors and measuring instruments increase production capacity, drastically reduces downtime, define the objects and help production in real-time. All this thanks to our commitment to each project and our cutting-edge innovations that provide solutions to the measurement, dimensional lasers, and applications market. Discover the reasons for our success and our impeccable reputation by consulting our experts. They will find solutions for your production problems specific to your industry.
Scanmeg
integrates the accuracy, reliability, ease of use, and trust.
ScanMeg innovations are so developed and precise that they solve the most complex production challenges. Before your purchase of the sensors, our specialists will ensure the perfect match between our devices and the application to the existing technology in the plant. Contact the team, their expertise can make a difference to your equipment's performance!
We are uncompromising regarding details and accuracy.
Read more
No loss

Increase productivity, accuracy, and reliability of your equipment with our high-performance systems.

Precision

Our devices project 6, 8, 10 or 12 laser lines on an object, so that the cameras capture the exact XY coordinates of the intersection of the laser line on the object.

Productivity

Increase your efficiency, productivity, and performance.

Speed

A capture speed of up to 4,000 acquisitions per second.

Dimension

Our equipment detects the size of very small objects, as small as 0,001 inch (0,025 mm).

Distance

Our systems detect the size at more than 100 feet (30 m) and shape at more than 12 feet (3,6 m).
ScanMeg products are designed to function well in all kinds of tough applications and therefore
increase the performance of the equipment.
Read more
Durability of
our devices
Several facilities have been operating reliability for 15 years, since the first products manufactured by ScanMeg 2001.
COLD
Function down to -40º to -50ºC (-40º to -58ºF)
Debris
Special features reduce problems with contamination
Vibration
Specially designed for operation in high vibration conditions
Scanmeg
We have field experience and technical knowledge
ScanMeg brings together the best talents in the industry through field experience and developed knowledge. This complete control ensures perfect understanding of the technical issues that may arise during production operations – we speak your language!. By their professionalism, expertise, and understanding, our specialists are more than employees; they are collaborators for each customer.
Research and development

ScanMeg is an important player -- constantly innovating to design products to improve performance in all industries. Through its innovations, it tends to simplify and optimize the production in several sectors.

Continuous Improvement

ScanMeg constantly trains its staff to develop the best talents. This ongoing development improves the knowledge of our experts, so that they remain the reference in the industry.

Dedication

Our specialists are involved in each project to ensure a better understanding in the use of ScanMeg products. Thus, our clients benefit from excellent service and close collaboration that actually provide peace of mind.
ScanMeg advanced technology
to understand the functioning of our devices
View technologies
Scanmeg
will increase your performance
The ScanMeg systems are designed to withstand the toughest conditions while maintaining functionality. Our products can be integrated into all production process and offer ease of use and unparalleled accuracy. Currently, ScanMeg sensors and measuring instruments are a must for the most demanding industries such as forestry, mining, food, packaging, automotive, and steel mills. For many, ScanMeg is the partner offering the best solution for industrial optimization. Contact us.
Here is how we work
Watch this video to learn about the methods developed by ScanMeg. You will see the extent of our work, the expertise of our technicians, the quality of our facilities and the precision of our products.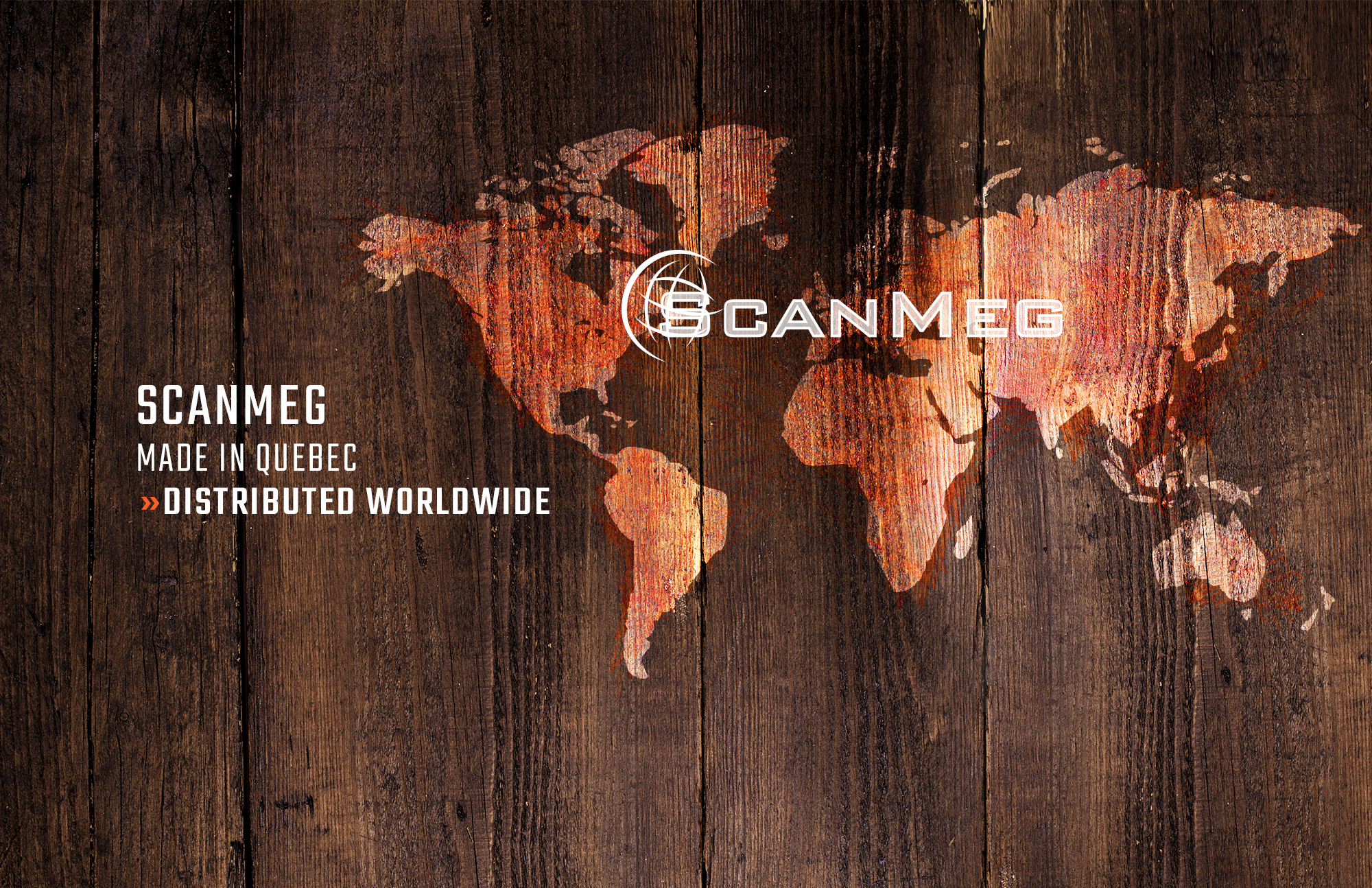 What customers say about Scanmeg
"ScanMeg products enabled us to increase productivity from 5 to 10% over the years. Certainly there are other brands of detection products but these are with core hours and do not always correspond to the sawmill industry's needs. ScanMeg products have been developed in taking into account dust, vibration, and functioning constraints even when installed in a harsh environment. Over the years, ScanMeg's company has developed products that exactly meet our expectations such as size of undetected particles below a certain adjustable diameter. These products have enabled us to achieve significant productivity improvements. I will not name all the products that helped us for fear of forgetting some, but those you will see on the videos have all contributed to achieving our successes."

Claude Résolu. Forest Products

"In the implementation of the USNR ReSaw, we needed two measuring systems. To do this, we used ScanMeg detectors that have responded very well to our expectations for this application. In addition, the technical service of ScanMeg team has been a great support for our programmers."

Jacques USNR

"Very easy to use! We only had to change the supports / guards where Banners sensors were installed, we have installed the P150 face to face, it was wired and that was it. I did not have to spend the 45 minutes usually required to align them, or tilt them, or check viewing angles. Another great ScanMeg product!"

Tom Britton Lumber Fairlee